Slideshow
Other Top Rated Products
5.0 star rating
11 Reviews
Great
Review by Gail H. on 5 Aug 2016
review stating Great
Love the flag- am proud to fly it- my husband loves the hat too! Both are excellent quality! Thank you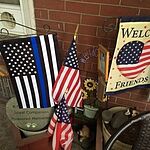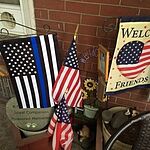 Fits perfect and my boyfriend
Review by Denise W. on 22 Nov 2021
review stating Fits perfect and my boyfriend
Fits perfect and my boyfriend loves it!
Nice quality, tall.
Review by Tim N. on 23 Jan 2021
review stating Nice quality, tall.
Quality hat with an embroidered flag (not a patch) on the front. Be aware that its rather tall - noticeably taller than other caps I have in my collection. The adjustment strap in the back is the velcro type which I prefer.
Hat
Review by Frederick D. on 24 Oct 2020
review stating Hat
I think the hat is not round and I didn't know that hat I got is more like a box. I need something that looks round thanks
Great
Review by Jo K. on 28 Sep 2020
review stating Great
Looks good